Journal Entry:
Tue Jan 1, 2013, 6:53 PM
Happy new ears my brothers and sisters. I hope you had a good break, but now its time to get back to work! And Ry here has a pro tip for you, something I have kept to myself but I think you as an artist should know about and adapt this habit. Its actually not that complicated, you should just always
Draw with your balls out.
A wise man by the name of John Rambo once told us that we should 'Stay ballsy'. We should not let our fear overtake us, we should dive head in into obstacles and fight the demons without fear and without worries. Well I have taken that approach and incorporated it into my drawing, believe it or not I have never been confident about my artworks, even if it is something I spent 24 hours on I still have doubt whether its good enough to show or not, especially when it is for work and I know I am being judged on..
thats why it always takes so long for me to finish an art piece because I keep looking at it and try to fix stuff that probably no one would ever notice
. There are often times when I look back at my gallery and can't believe how awful it is, I would then delete some artworks in hope that no one would ever see it.. And sometimes I would upload something on Deviantart and browse through the comment to find some negativity, I would get a bit sensitive about it and worry that they are right and the artwork really isn't good enough, eventhough 99% say its good I would still unconsciously focus on that 1% that says its bad... Well at least during the early days of my Deviantart life anyway. Now I feel stronger, now I feel more confident, and now I can say I have improved significantly because I have been more confident too! That's right,
I HAVE BEEN DRAWING WITH MY BALLS OUT
, and I highly encourage you to do it too. If you fear drawing a new perspective may damage the whole artwork, DO IT ANYWAY, even if it doesn't look good, at least you tried. If you fear you can't draw more than 2 characters in an artwork because its too much work, DO IT ANYWAY, stay ballsy and throw in more characters to make your artwork more lively and interesting! If you feel that one artwork you uploaded isnt good enough, DO 10 MORE! Prove to yourself you are better than that. If you get some troll comments on your page, IGNORE THEM, you know you are ballsy and don't have time for trolls. If someone gives you positive comment, ACCEPT THEM, don't be like 'ohh im not sure I still don't like it.. boo hoo hoo' NO you accept their comment, respect their opinion god dammit!
I guess the main point is don't be afraid to try new things and be confident about yourself. I feel that MANY artists I know ain't very confident about their work, eventhough in my opinion they are amazing! but its understandable I guess. Cos I was like that too. However if you draw with your balls out you will find yourself trying more new things and even improving because of this, next time you come across a difficult task you will be like
'Hey I can do this, I have done this before.'
And next time you have something you ain't sure if you should upload, just think
'Yeah this is good, I have done something like this before and people liked it. THIS IS A GOOD PIECE OF ART'.
And if someone gives you advice on improving it, you can be like
'Yeah I'll take that! I will take in this advice and make the changes, I am not gonna hide under the table, I am gonna take it like a man, I AM GONNA BE THE VERY BEST'
.
like no one ever was.
How's that for motivation at the start of 2013 huh? I would even say that fear itself is the ONLY thing that's stopping someone from succeeding in art (Unless you literally lost an arm or something), I mean even if you ain't born with artistic talent, I believe it is 100% possible to learn and improve and eventually become an amazing artist! Draw with your balls out I say, lol I think this attitude definately helped me overcome my fear of my art isn't good enough. Oh but don't take it too literally, I don't want you suddenly taking off your pants in art class. But attitude wise you should always stay ballsy. Take care, Ry-Spirit cares.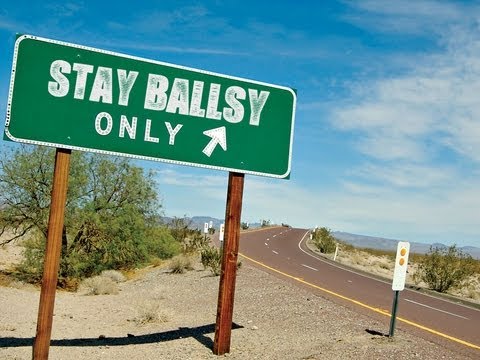 Mood: Joy
Listening to: Big Bang
Reading: Teleportation for Dummies?
Watching: Nicolas Cage movies
Playing: Sonic All Star Racing Transformed
Eating: Dinosaur Pie
Drinking: Bacon Smoothy